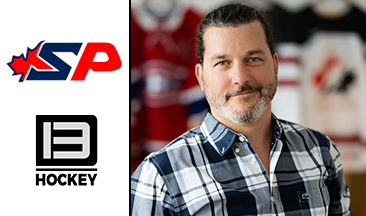 To survive the crisis, they traded the production of sports uniforms for medical equipment.

The operations of the textile plants 3B Hockey, in Saint-Hyacinthe, and SP Apparel, in Granby, were far from falling on the ice during containment. Unable to continue making uniforms for the National Hockey League (NHL), factory manager Steve Bérard put his sewing machines to work for the benefit of the community by producing medical gowns and face masks on a massive scale.
To date, Mr. Bérard estimates that he has sewn close to 150 000 contagion gowns for Québec hospitals and 60 000 non-medical face covers for administrative staff.
"We continue to produce, but less than we did in the spring. It's just as well since, starting in June, orders for NHL uniforms were back as companies deemed non-essential were able to resume operations," explains the president of 3B Hockey and SP Apparel. [...]

Source: Jennifer Blanchette, October 8, 2020, Special edition - Se réinventer en temps de crise, Le Courrier d'affaires
Photo: courtesy
Légende: Steve Bérard, President of SP Apparel and 3B Hockey