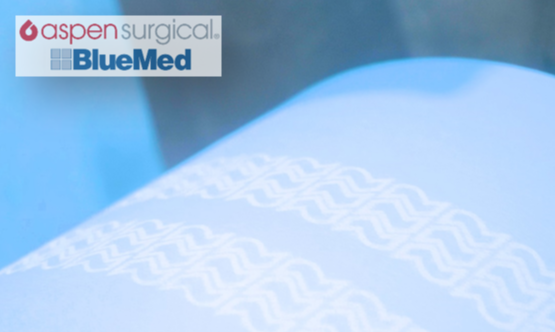 Aspen Investment to Bolster Healthcare Provider Safety Portfolio

Aspen Surgical Products, Inc. ("Aspen"), a leader in surgical disposable products, announced the acquisition of BlueMed Medical Supplies, Inc. ("BlueMed").
BlueMed is a manufacturer of high-quality, cost-effective disposable shoe covers and other personal protection products based in Montreal, Canada. Their products are used in healthcare, pharmaceutical, and lab facilities where infection prevention and cross-contamination are paramount concerns. The acquisition of BlueMed strengthens Aspen's broad portfolio of surgical disposables and patient and staff safety products sold into the acute care market.
"BlueMed is a highly synergistic fit for Aspen in terms of manufacturing and commercial operations," said Jason Krieser, CEO of Aspen. "Coming shortly after our acquisitions of both Precept Medical and Protek Medical, the BlueMed offering further enhances our portfolio of high-quality products that address infection prevention in the acute care environment at a time when reducing cross-contamination has never been more important."
"We are very excited to join forces with Aspen and contribute over a decade of product and automation development in the shoe cover business" said Michel Kassar, president of BlueMed. "Our complementary businesses will create a stronger and more diversified offering across a wide spectrum of industries and solidifies our presence as a North American leader in the PPE business."


Source: Mary Hannon, Aspen Surgical Products
Photo: BlueMed