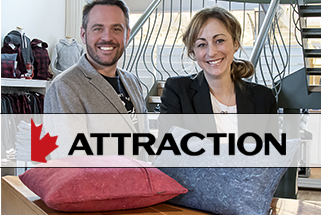 Each cushion can be used to enhance the textile remnants of up to 50 garments
The clothing manufacturer Attraction du Lac-Drolet, known for its local clothing brand Ethica and for having produced personal protective equipment during the pandemic, is launching a unique collection of eco-responsible cushions for the home.
"It is with great pride that we announce the marketing of a new line of eco-responsible products for the home. The star product of this new collection is a felt cushion made of 100% recycled materials, manufactured in Québec and with a filling made from our textile remnants. It's hard to find a more eco-friendly cushion on the market! "says Julia Gagnon.
The outer cover of the cushions is made of 100% mixed recycled fibers. The felt is made from 80% used clothing, normally destined for landfill, and 20% regenerated polyester fibers to ensure product stability. With no dyes added, the color of the felt comes from the careful sorting of used clothing.
As for the wadding, it is composed of top-quality 100% recovered mixed fabrics, mainly organic cotton and recycled polyester. In addition, the fabric scraps are transformed by Coup de Pouce, a company that helps develop the employability of young people with learning difficulties. The purchase of a single Ethica cushion makes it possible to upgrade the fabric scraps generated by the production of fifty garments.
The Ethica cushions are on sale on the Ethica brand's transactional site as well as on Simons' Fabrique1840 site. The Ethica cushions are added to the make-up remover pads, toques, carpets and woven blankets of the same brand which also allow to revalorize textile scraps.
"This is a new market for Attraction and other products are currently being developed to complete the offer and maximize the revalorization of our scraps. The crisis has seriously shaken our company and impacted our sales volumes, but we are confident that, in the long term, it will have made us more innovative and eco-responsible entrepreneurs," says Sébastien Jacques, co-owner and vice-president of business development.
Online sales and local purchasing
Attraction is also taking advantage of the local buying craze to sell to consumers from web platforms. "We wanted to make available to all our ethical, comfortable clothing, designed and manufactured by our unionized teams right here in Lac-Drolet. Our Ethica line of products has been around for more than ten years. It is very much appreciated by our corporate customers whether they are in the promotional or recreational tourism market. So it was only natural to introduce it to consumers," says Sébastien Jacques.
Ethica brand clothing is made from ethical fibres such as organic cotton and recycled polyester. The purchase of these products is an important gesture for the environment, because they minimize the use of pesticides and chemical fertilizers, recycle 5 to 15 500 ml plastic bottles per garment, and reuse premium quality textile waste.
"Concern for the environment has always been part of our values, but the pandemic has made us aware of the importance of acting now," said Ms. Gagnon, co-owner and Vice-President of Operations at Attraction.

Source and photo: Attraction
Legend: Sébastien Jacques, Vice-President Business Development, and Julia Gagnon, Vice-President Operations of Attraction Inc.