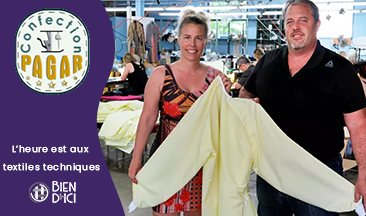 The demand is such that the Granby-based company is in hiring mode

Les 10 couturières de l'entreprise produisent actuellement quelque 600 blouses médicales de niveau 2 par semaine. Mais il est visé de tripler la production hebdomadaire. L'embauche de quatre ou cinq couturières permettrait d'y arriver, affirme la copropriétaire et vice-présidente de l'entreprise familiale, Julie Larrivée.
«C'est notre deuxième semaine où on travaille à temps plein là-dedans. On commence à prendre notre vitesse de croisière. Je vise 1800 blouses par semaine. Mais il va falloir embaucher pour y arriver», souligne Mme Larrivée.
Celle-ci dit rechercher des employés qui ont une base en couture industrielle. La formation est effectuée sur place. L'horaire de travail est de jour, entre 7h30 et 16h.

Source: La Voix de l'Est, April 28, 2020
Photo: Alain Dion
Photo legend: Julie Larrivée et Pascal Larrivée, co-owners of the family business