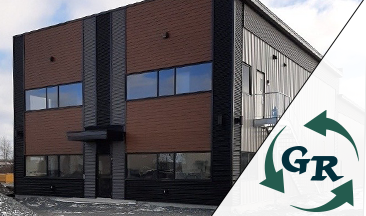 This plant, located in Val-des-Sources, is dedicated to the recycling of work clothing
This state-of-the-art facility specializes in the recycling of Fire-Resistant Non-Biodegradable Industrial Workwear Garments and Fabrics
"We started General Recycled in 2012 with the hope of building a new recycling facility in Québec, close to our value chain of suppliers," says Ted Parker, CEO of General Recycled. I am proud to say that we have achieved our goal. We have been installing new recycling equipment since January and our goal is to be fully operational by April 2021."
Thanks to this new facility, General Recycled will be able to help Québec companies properly dispose of their non-biodegradable garments by transforming them into reusable fibers, yarns, and fabrics according to current industry standards. It will thus give a second life to products that can in turn be recycled.
"We have been working on this project for two years in partnership with the Government of Québec, Investissement Québec, la Société d'aide au développement des collectivités (SADC), the City of Val-des-Sources and the MRC des Sources," says Larry Suzuki, Vice-President, Finance of General Recycled. We would like to thank each of these stakeholders for their support. A special thank you to the elected officials of the Estrie region. We would also like to express our gratitude to the City of Val-des-Sources and its economic development corporation for their collaboration and expertise in the construction of the building. We are delighted to be located in this municipality."
"The Québec government encourages initiatives that contribute to economic development while preserving the environment, "said Mr. André Bachand, Member of the National Assembly (MNA) for Richmond. General Recycled strives to reduce the impact of aramid fibers on the environment through its revolutionary recycling technology. The Government of Québec is pleased to contribute $663,500 in funding for the new Val-des-Sources plant. In addition, General Recycled's booming activities in the Estrie region will create some 15 jobs in the sector."
"I am delighted to see that this project, which will help to promote the diversity of our regional economy, is about to get off the ground," said Hugues Grimard, Mayor of Val-des-Sources and Prefect of the RCM des Sources. "The RCM is committed to encouraging new start-ups and fostering job creation. In addition, General Recycled focuses on processes that uphold sustainability principles."
"TechniTextile Québec is delighted to welcome investors from outside Québec into its cluster of excellence, which is undeniable proof of the attractiveness of our industry and its economic development potential. General Recycled's shredding facilities will meet a significant need in the recycling of technical textiles," says Dany Charest, General Manager of TechniTextile Québec, the Technical Textile Materials Cluster.
"We use aramid fibers for many reasons," explains Dave Kasper, Vice-President, Sales and Product Development. "First, it's an extremely strong fiber, which is obviously essential for the manufacture of industrial workwear garments. Second, aramids are inherently flame-resistant. Employees around the world who are at risk of injury due to a flash fire incident need proper protection from the use of aramids. In addition, these fabrics are 100% non-biodegradable. And that's where we come into play. The aramids reuse program we've created comes full circle," concludes Mr. Kasper.
Aromatic polyamide (aramid) fibers are widely used in certain fabrics (for example, Nomex®, Kevlar®, Conex® and Kermel®) and in protective apparel for the industrial sector around the world.
Aramid apparel and textiles are used extensively in many sectors, including oil and gas, electricity and natural gas production and distribution, production of liquified natural gas, chemical manufacturing, construction, nuclear safety, automotive, railroads, trucking, port authorities, lumber, pulp and paper, firefighting and defense.

Source and photo: General Recycled
---
ON THE SAME TOPIC