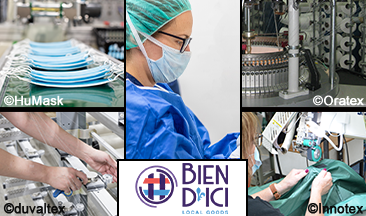 Some 15 entrepreneurs believe it would be unwise to end business deals while the demand for PPE continues
The pandemic has confirmed the importance of local procurement of personal protective equipment (PPE) by governments and healthcare institutions.
Over the past few months, the Québec technical clothing and textile industry has clearly demonstrated its ability to mobilize for a sustained supply of the equipment necessary for the protection of healthcare workers, patients and the population.
Thanks to the industry's technological advances in protective filtration barriers, for example, companies were able to create a new equipment manufacturing niche in record time.
Millions of washable and disposable products, such as face coverings, procedure masks, Level 1, 2, 3 and 4 protective gowns, and several bedding items, have been produced over the past months here in Québec. The industry counts on a complete value chain capable of meeting the healthcare sector's demand and requirements, including manufacturing of technical thread, textiles, textile products and clothing.
This isn't the time to shut down our local production lines!
While the number of new cases has continued to rise in the past few weeks, the industry wants to maintain its production speed to avoid running out of stock as in last spring's shortage. Some temporary contracts awarded to Québec companies to meet the demand have already ended or will expire very soon.
Pausing local PPE production would lead to layoffs and costly delays to resume activities. In the current context, it would be imprudent to terminate agreements with local manufacturers to the benefit of foreign suppliers, which have clearly shown their inability to deliver quality products in time. Can society afford to depend on a foreign supply chain that has failed to prove its reliability in a crisis?
The Québec textile and clothing ecosystem wants to be part of a sustainable solution. Companies want to be able to count on a firm commitment by governments giving preference to local procurement of PPE. On the strength of this support, they are ready to invest in this key economic sector to improve their productivity and thus create collective wealth.
A strong and committed industry
The Québec technical clothing and textile industry produces 45% of the Canadian textiles used in a great many sectors, particularly agriculture, furniture, building, defence, packaging, environment, civil engineering, recreation, medical, and products used in industrial processes, personal protection, safety, sports, transportation and clothing.
Solidly established for over 150 years in every major region of Québec, the industry includes 400 companies and 10,000 skilled workers. Today more than ever it is one of the engines of Québec's economic recovery.
Authors of this letter:
Sébastien Jacques, Attraction; Jimmy Falconi, Beau-Fab; Jacek Mlynarek, Canadian Textile Industry Association; Linda Cyrenne, CSMO Textile; Olivier Vermeersch, CTT Group; Alain Duval, duvaltex; Patrice Barbeau, Entreprise Prémont; Claude Barbeau, Innotex; Louis Lessard, Lessard; Karine Bibeau, Logistik Unicorp; Debbie Zakaib, mmode; Andy Marotta, Oratex; Sonia et Patrice Chevalier, Patlin Textiles; Jean-Philippe Robert, Quartz Co.; Lisa Fecteau, Regitex; Steve Bérard, SP Apprarel; Alex Artus, Stedfast; Josée Champagne, Stephan/H; Dany Charest, TechniTextile Québec; Randy Williams, Textiles Monterey; Perihan Sheard, Geo Sheard Fabrics; Maxime Thériault, Tricots Maxime; Marie-Ève Caron, Umana Protection; Paulette Kaci, Vestechpro; Aurore Colliaux, Vêtement Québec; Éric Wazana, Wazana Clothing.