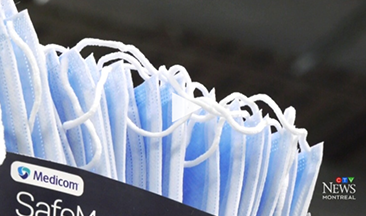 Machines are whirring away in a factory in an industrial section of Saint-Laurent. This factory didn't even exist six months ago—it was a warehouse.
Now, it's suddenly going to be one of the busiest in Quebec. It's churning out surgical mask after surgical mask and aiming for 150 million a year under a 10-year federal contract awarded this spring.
"Since April, we got this building, bought the machines and airlifted the machines and brought them here," said Ronald Reuben the CEO of Medicom, the company running the operation.
It's an international manufacturer of personal protective equipment, one of the holy grails of the COVID-19 pandemic, and it's based in Pointe-Claire.
But until now, it didn't have a Canadian factory. All of a sudden, however, everything has changed, not just in Canada but in the countries where it used to operate.
"Many of our factories, globally, were taken over by local governments," explained Reuben. "So we were left with very little supply for our existing customer base." [...]
Source: CTV News Montreal - August 17, 2020
Photo: CTV News Montreal
---
On the same topic:
Medicom begins producing surgical masks in Montreal, The Canadian Press, August 12, 2020
CDPQ renews its support for Medicom, La Caisse de dépôt et placement du Québec (CDPQ), July 15, 2020
La première usine de masques N95 au Canada bientôt en production, Le Journal de Montréal, July 18, 2020