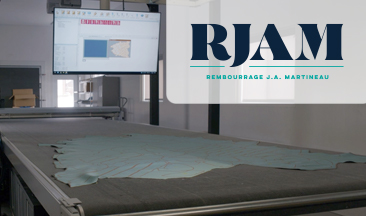 With 6 robots already in operation, the company should acquire 4 more within the next 18 months

Two years ago, Alain Martineau, President of Rembourrage JA Martineau (RJAM), began a wave of investments that will last four years. The objective is to stay ahead of new technologies in order to automate and improve the production line.
The textile industry in Québec still uses old methods to work. In order to compensate for the lack of manpower and to allow a certain growth of his company, Alain Martineau turned to the automation of the various stages of production.
Since the company is currently in a major growth phase, investments of close to one million dollars have been made in the last two years and as much will be made in the next two years. These investments have allowed the acquisition of automatic leather and fabric cutting machines, intelligent sewing machines and other automatic sewing machines. The deployment of management and work optimization software is also underway.
These new machines could open up new markets for this Saint-Germain-de-Grantham company, which deals mainly with the railway industry - an unpredictable industry, most of the time.
"For the past 10 years, the train market has represented 80% of our activities. The problem we have with the rail business is its instability. The customer is currently two months behind schedule. In our production planning, this is not easy to manage. We can't take on another big contract in the meantime because if a train is suddenly ready, we can't do it. We always have a sword of Damocles hanging over our heads. That's why we opened a new subcontracted cutting line. It allows us to fill the gaps this way. This is what saves us in a way," explained Mr. Martineau.

A wise decision
The first wood cutting robot, acquired in 2008, probably saved the company, according to Alain Martineau.
"If you go back to 2008, there were only a few cabinetmakers who had this type of robot. Even today, there are many woodworking shops that do not have a cutting robot. We were a small upholstery factory that brought in a cutting robot that most of the big cabinet makers didn't have. I got called crazy for getting that machine, but honestly, if I hadn't made that move back then, today I don't think we'd even be in business," testified the 21-year RJAM president. [...]
Source: Louis-Philippe Samson, L'Express - Drummondville, July 15, 2021
Photo: RJAM