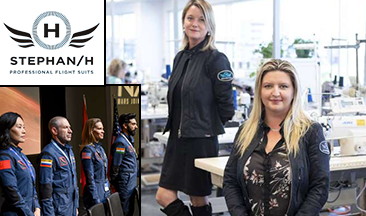 Custom-made pilot suits in Quebec City, presented on Netflix

Thanks to its style, design and the quality of its workmanship, a Quebec City company has succeeded in developing a collaboration with costume designers for television and film. To date, Stephan/H technical costumes have been used in Les 100, Killjoys, the fourth season of Winnona Earp, The Expanse, Away, The Matrix 4 (scheduled for release in 2022), Godzilla vs Kong (scheduled for release in May 2021) and The Rescue (scheduled for release in 2021).
True to the business model that offers a product tailored and modified according to the needs of its customers, the creations are adapted to the needs of the film or series and made according to the actor's measurements.
Marie Turgeon, Vice President of Development, explains for example that for the Away series, presented on Netflix, the pockets of the Rotor suit are moved and the legs of the pants are more streamlined. The cosmonaut's weightless training does not allow him to wear the original leg cut .
Who is behind this brand?
Stéphan Huot is a businessman from the region who works in several sectors. Experienced helicopter pilot looking for a flight suit, he couldn't find anything that met his expectations of quality and style. So in 2012 he created his own brand, Stephan/H. The brand offers high-end clothing, developed for helicopter flight. These technical garments can also be adapted for police officers, ambulance drivers, airplane pilots, search and rescue specialists or oil rig workers.
Today, the company employs 20 specialized seamstresses in their Québec City workshop. According to Josée Champagne, Vice President of production, their know-how is more related to workshop work than to mass production. Each piece is made entirely by hand, according to the size of the person who will wear the garment. [...]
Source: Caroline Grégoire, Le Soleil, September 26, 2020
Photo: Robert Markowitz/Netflix, Caroline Grégoire/Le Soleil
Legand: 1-actors from the series Away on Netflix; 2- Marie Turgeon, VP Development, and Josée Champagne, VP Production, from Stephan/H
---
STEPHAN/H invited to Global News