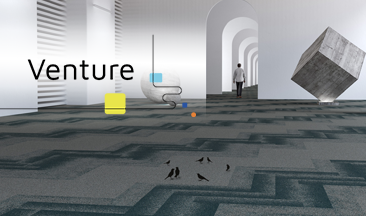 The only modular carpet manufacturer in Canada
While many carpet manufacturers have closed their doors in Canada over the past few years, Venture Carpets has succeeded in becoming one of North America's leading carpet manufacturers. It now produces millions of square meters of carpet each year at its three plants in Saint-Georges, Beauce. Since the beginning of the pandemic, the Beauce company's sales have increased remarkably due to the enthusiasm of Quebecers for products made here.
Venture Carpets is the only company in Canada to offer products that can contribute to obtaining credits for the construction of LEEDâ buildings. A large part of its carpets are made from recycled nylon from fishing nets recovered from the oceans and aquaculture, as well as from fabric and carpet yarn waste. These are distinguished by their natural stain-resistant properties.
The success of Venture Carpets is based on its remarkable ability to renew itself in a dynamic and strategic manner in what it knows best: soft floor coverings.
For nearly 100 years, Venture Carpets has specialized in the design and manufacture of textile floor coverings, including residential utility and decorative rugs; residential and commercial modular carpets; and carpeting. [...]

Source: Magazine Surface, volume 37, no. 3, pages 22-23
Photo: Venture