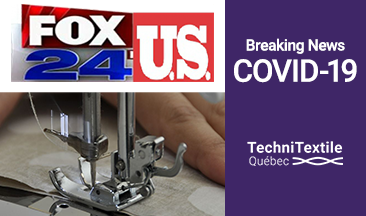 While protective gowns remain for less than a week, the Quebec textile industry is mobilizing to produce 200 000 on a weekly basis.

The technical textiles and clothing industry says it is ready to supply the health care sector with first-line protective uniforms, disposable and washable solutions as soon as it receives official orders from governments.
Since Monday, Logistik Unicorp, whose head office is in Saint-Jean-sur-Richelieu, has taken on the coordination of the manufacture of blouses of protection levels 1, 2 and 3 in collaboration with Duvaltex, Soleno Textile, Stedfast, Texel Technical Materials, Monterey Textiles, Maxime Knitwear and the CTT Group. Logistik Unicorp is also evaluating the possibility of producing masks.
Source: FOX 24 U.S. - April 6, 2020