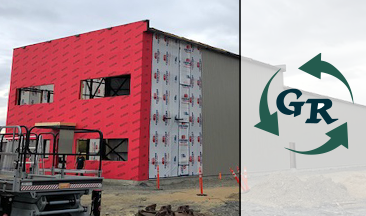 State of the art facility specializing in the proper disposal of Fire Resistant Non-Biodegradable Industrial Work-Wear garments and fabrics
Vancouver, British Columbia – October 15, 2020 – General Recycled is pleased to announce that they are nearing completion of construction and installation of their new textile recycling facility in Asbestos Quebec for recycling of industrial work-wear.
"We started General Recycled in 2012, hoping that we would be in a position to build a new recycling facility in Quebec, close to our value chain of suppliers," says Ted Parker, CEO of General Recycled. "I am pleased to say that our plans to complete construction of our new facility for mid October 2020 are on target. Following building completion, we can then move to installation of the new recycling equipment. Our goal is to be fully operational by the end of February 2021."
"We have worked with the representatives from the Government of Quebec and the city of Asbestos – Investissement Quebec, mandatory of the Government, SADC and MRC – (collectively Quebec) over the past two years to bring General Recycled to Asbestos. We want to thank Quebec for their on-going support, in particular the government representatives in Estrie, who have been a tremendous help. Lastly, we want to thank the city of Asbestos for their persistence and expertise working with us on this project. We are very happy to be located in Asbestos," says Larry Suzuki, Vice President of Finance.
"The Québec government encourages initiatives that help spur economic development and preserve the environment. With its innovative recycling technology, General Recyled is working to reduce the environmental footprint of aramid fibers. The Québec government is an enthusiastic backer of the new facility in Asbestos, providing $965,000 in funding. In addition, General Recycled's growing operations in the Estrie region will create over 15 jobs in the region," stated Richmond MNA André Bachand.
"This project will help diversify our regional economy, and I am delighted to see it nearing completion," noted Hugues Grimard, Mayor of Asbestos and Prefect of the Des Sources RCM. "The RCM is committed to encouraging new start-ups and fostering job creation. Moreover, General Recycled, which specializes in recycling fabrics, continues to develop processes that uphold sustainability principles."
Aromatic Polyamide (Aramid) fiber and fabrics are used extensively in employee Fire Resistant garment protection among industries across North America, Europe and around the globe. I.e.: Nomex, Kevlar, Conex, Kermel. "We use Aramid textiles for several reasons, says Dave Kasper, Vice President, Sales and Product Development. "Aramids are a very strong fiber, obviously important for industrial work-wear garment construction. Most importantly though, aramids are inherently Fire Resistant. Employees around the world working exposed to the dangers of a flash fire incident need proper protection, and aramid textile does just that. As well as being fire resistant, aramid fabric and garments are 100% Non-Biodegradable, which is where we come into play. It is understandable that given the pressures around the world on landfills that companies would wish to recycle," says Mr. Kasper.
General Recycled works with companies to properly dispose of their non-biodegradable garments by returning them back into a usable fiber, yarn, and fabrics that meet all applicable industry standards. These recycled products can also be recycled. "Most companies today have excellent sustainability messaging on their website. However, for those companies using garments made with aramid fabric, they always neglect to add that they allow their non-biodegradable garments to be put in the garbage. Many companies are not aware they have a problem...and we will gladly help educate them. There is no longer any reason for aramid garments and fabric to be disposed of in landfill," says Mr. Parker. "We have created a truly closed-loop program when it comes to the use and re-use of aramids."
Industries using aramid fabric and garments include: Oil & Gas/Refineries …Electric utilities/maintenance...Gas utilities...Chemical manufacturing...Construction...Liquified Natural Gas...Nuclear security...Rail...the automobile industry...General uniforms and work-wear...Sawmills/wood pellets/pulp and paper...Port Authority workers...Trucking...Fire Fighting..., both municipal and wild land fire fighters...Military.
About General Recycled
General Recycled is a privately owned company based in Asbestos, Quebec, Canada. The company specializes in Fire Resistant non-biodegradable textile recycling in Canada, the USA, Asia and Europe.
###
For more media information please contact:
General Recycled
Vancouver, BC
604-807-7279