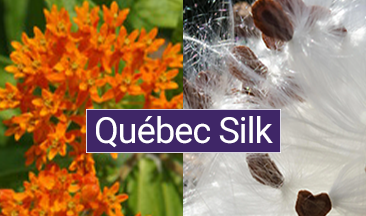 The quality and potential of Québec silk are pushing manufacturers to develop this fiber

Milkweed made a dramatic entrance into the textile market six years ago. American silk, with its acclaimed insulating properties, quickly attracted major industries around the world. Expectations were high for this native plant, a plant-based alternative to down. After the bankruptcies and the difficulties of the journey, will this indigenous fiber be able to fulfill its great promise?
It can be found just about everywhere in the fields. It grows in such large quantities that farmers have long considered it a weed.
"For me, milkweed was not a plant I wanted to see in my fields," admits Daniel Allard, founder and former president of the Monark Cooperative, the first grouping of about 100 Quebec milkweed producers.
Then a partner convinced the farmer of the potential of this native plant growing on his land. He embarked on the adventure in 2012. "I thought it was interesting to give back to the plant a territory that basically already belonged to it," he points out.
Milkweed silk is gathered from the silky apex of the seed. That's why it's called Quebec silk or American silk. It produces a resistant, hydrophobic and light fiber, an excellent insulator. [...]

Source: Fanny Samson, Les grandes promesses de l'asclépiade, la soie d'Amérique, Radio-Canada, March 12, 2021
Photo: TechniTextile
---
ON THE SAME TOPIC