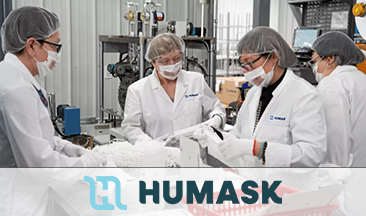 While waiting to find out if its bid is selected to supply the Québec government with window masks for daycare centers, Entreprise Prémont says it has just been awarded the contract to deliver 240,000 of this type of mask to Elections Canada.
The Louiseville-based manufacturer specifies that confirmation of the contract came on Monday.
"It's a contract of about $300,000. We are used to contracts worth millions of dollars. But we want to have all the contracts," said Luc Girard, vice-president of Entreprise Prémont.
The contract with the Government of Canada includes an option for an additional 50,000 masks. If the government uses this option, these masks must be delivered within the next year.
The federal government issued the tender a month ago. The masks will be used by poll workers in the event that an election is held during the pandemic.
According to Girard, the 240,000 window masks will be delivered to Ottawa by the end of the week. The manufacturer has reached a good cruising speed, producing some five million masks each week.
Optimizing production has allowed Entreprise Prémont to reduce its cost of production. The price charged for each mask is therefore reduced. This is one of the reasons why management is so confident about obtaining the next contract for the Ministère de la Famille, a deal for 8,775,000 masks with an option for 297,000 masks. [...]

Source: Martin Lafrenière, Le Nouvelliste, March 23, 2021
Photo: Stéphane Lessard